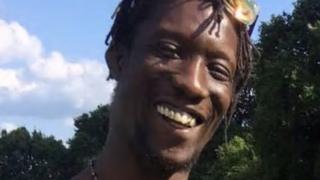 A man has been found guilty of murdering a father-of-three who was stabbed to death in south London.
Gavin Garraway, 40, was attacked through his car window in March 2019 near Clapham Common Tube station.
Although he was not in a gang, he was pursued by Zion Chiata, who spotted him driving with his brother who was linked to a rival gang.
Chiata, 20, from Wandsworth, was found guilty following a trial at the Old Bailey.
He heard the verdict via video link from Belmarsh Prison.
'Bitter' feud
Judge Anthony Leonard told the jury he believed it was the first verdict to have come in on a murder trial at the Old Bailey since lockdown has begun.
The verdict was delivered by the jury forewoman from the well of the court where the jury have been placed with individual tables and chairs to maintain social distancing.
During the trial, prosecutor Jonathan Rees QC told jurors the "outbreak of violence" was due to a "bitter" feud between two neighbouring Lambeth gangs: the Claptown gang ('CT'), based around Clapham High Road, and the '67' gang, based around Brixton Hill.
The rivalry had been partly documented in drill music videos posted on YouTube.
The court heard Mr Garraway's younger brother, Melique Garraway, 23, was a well-known drill artist with the 67 gang.
Chiata was associated with the rival Claptown gang and had appeared in one of its videos.
In 2014, CT recorded a track entitled Dotty On The Ride, which has been viewed more than 700,000 times on YouTube.
Jurors were told that Dotty is slang for shotgun and the lyrics demonstrate "disrespect" for the 67 gang.
In 2016, 67 made a "popular" video for a track called Wicked And Bad, in which various prominent members were filmed on rival estates pouring drink over street signs as a mark of disrespect.
This video currently has nearly four million views on YouTube.
Chiata will be sentenced alongside Tishuan Panton, 22, who was found guilty of manslaughter at an earlier trial.